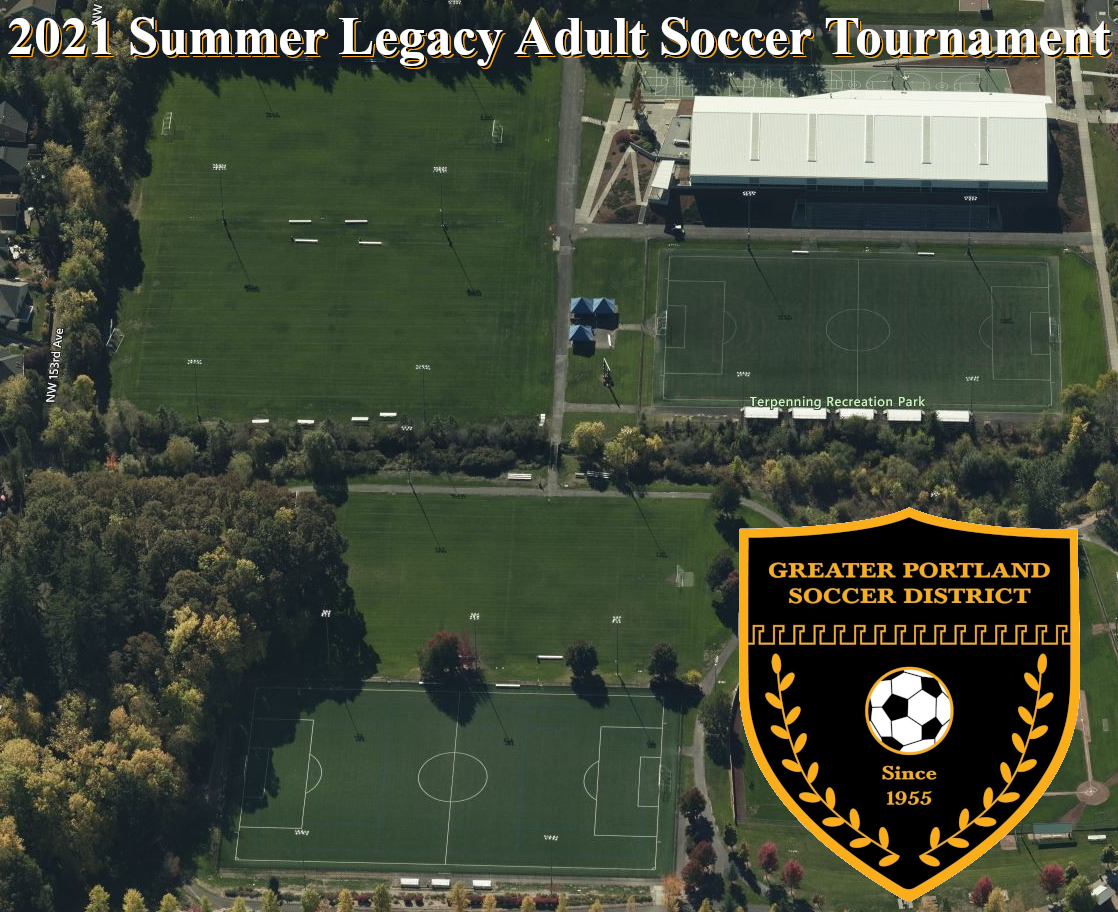 The 2021 Summer Legacy Adult Soccer Tournament will be the 14th Year of the Tournament. It will take place August 20-22, 2021 at the Tualatin Hills Rec Center in Beaverton, OR.
GPSD has taken over the Tournament from St Patricks FC, and we are pleased to announce that the 2021 Tournament will take place! It was a challenging 2020 and 2021 for us all, and after a year hiatus, it is good to have the resources and ability to host this wonderful Tournament.
Registration
For team registration, please CLICK HERE
The deadline for registration is August 6, 2021
Team registration is $450 per team before July 25, 2021
Team registration is $500 per team from July 26, 2021 to August 1, 2021
Schedules
Once the August 6, 2021 deadline has occured we will work on scheduling. When it is complete we will update this page to show where to go to see the schedule.
Divisions
Open
Over 30
Over 40
Over 50
Over 60 Mens
Over 60 Womens (see special rules below)
Over 65 Mens
Over 65 Womens (see special rules below)
Format
4 Matches per team.
30 Minute halves
One match on Friday, Two on Saturday, and One on Sunday.
Friday matches are 1830-2200.
Saturday matches are 0800-1900.
Sunday matches are 0800-1700.
Top two teams in each Division will play a Final to decide the Division Champion.
If the Final cannot be held for some reason then it will be decided by Total Points (3 points per win, 1 point per draw), then Head to Head matchup, and then Goal Difference.
Players
All players must be registered with, or pursuant to the authority of, a USSF or other FIFA affiliate such as OASA or WSASA. See here.
To purchase a pass that is valid for this tournament only, click here.
To renew, purchase or replace a valid OASA player card to be used for the season as well as the tournament, click here.
All players need to be the actual age (or older) of the division they want to play in. Due to some teams asking for a modification, we are allowing 4 players to be rostered on a team who are within 2 years of that teams age requirement. This is applicable to all divisions except the Open. For instance you may have 4 players who are:

28 or older on an Over 30
38 or older on an Over 40
48 or older on an Over 50
58 or older on an Over 60
63 or older on an Over 65

Players may play in multiple divisions but NOT on multiple teams within a division.
Kits / Equipment
Teams are required to have two tops in different colors.
All players on the field (outside of the Keeper) must have the same color/pattern top on. It is up to the Referees descretion if they wish to allow a players top to be used. Solid colors which are the same shade of color are encouraged to avoid possible issues.
We encourage a team to have the same color shorts and socks, but it is not a requirement.
Players are not required to have numbers on their tops.
Shin Guards are required.
No Soft Ground boots are allowed. These are studs (normally metal or sometimes plastic) which are SCREWED into the bottom of the boots. Only molded style bottoms or soft bottom styled are allowed.
Watches/fitness trackers are left up to the Referees descretion.
Rosters
Please have your player information filled out ahead of time. We recommend you bring 5 completed copies of the Roster form. There is no need to fill out the Game #, Date or Field #.
For a Microsoft Word Document CLICK HERE
For a PDF Document CLICK HERE
Referees
Referees will be provided by GPSD.
Conduct
Hotels
We are working with some hotels for deals. We will post information here when it becomes available.
Special Rules
O60 & O65 Womens

8v8
1/2 Regulation Size Fields with Full Sized Goals
No Offsides
Subbing on Stopages
Any questions please send contact@gpsdsoccer.com an email!
Hope to see everyone out there!
Posted 06/19/2021
Updated 7/2/2021 O60 and O65 Womens rules
Updated 7/8/2021 Player card and registration requirement.
Updated 7/29/2021 Updated player age requirement with 4 roster spots to players within 2 years.
Updated 8/2/2021 Extended registration to August 6
Updated 8/4/2021 Added Roster forms and Kit / Equipment requirements